Join us for a Photo Excursion
Diving the Revillagigedos Archipelago (Socorro Islands)
Aboard the Solmar V
April 9-17, 2011
$3299 Superior Cabin, $3199 Standard Cabin
SORRY, SOLD OUT! Take a look at our 2012 trip.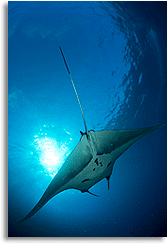 Have you ever been face-to-face with a giant Pacific manta ray? Would you like to twirl with a dolphin? Have you ever heard the song of a whale?
Any one of these is a life-changing experience. To be able to find all three and more in one dive trip is even more amazing! That's why Socorro is often called the "Mexican Galapagos". March is the time of year when humpback whales migrate through this area. We'll see whale tails and breaches all day long and will hear their song underwater. If we get really lucky, we may even have an underwater encounter!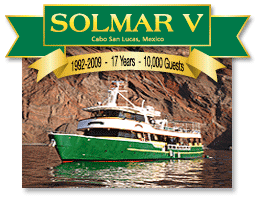 Join us for a magical trip aboard the 112' luxury live-aboard Solmar V. This vessel has been visiting the Socorro Islands for over 17 years and has more experience there than any other live-aboard. She's a gorgeous vessel with warm mahogany decor accented with etched glass and brass. There are 12 staterooms on board that can accommodate up to 22 divers. The cabins on this boat are small, but there's plenty of storage area. Each cabin has its own ensuite head and shower.
TAKE A VIRTUAL TOUR OF THE SOLMAR V
The food on the Solmar V is really good and plentiful! Each morning we'll be served a hot breakfast made to order. Of course they have coffee, tea, cereals and fruit for the early risers. Both Lunch and dinner are a sit-down three course meal. If we find any particular dive area especially active, they'll keep the dive deck open and serve up a simpler lunch, such as tacos or sandwiches, so we can eat quick and get back in the water. There is also plenty of snacking between meals too. On top of this, We'll will put in our order for extra chocolate for our charter and Margaritas for happy hour!

DIVING REQUIREMENTS: Diving here is not for beginners. California divers do quite well because the water is warmer and clearer than what we're used to, but before you decide to join this trip you need to ask yourself the following questions:
Are you comfortable diving to 100+ feet in at least a 5mm wetsuit and the appropriate weight?
Are you comfortable diving in bottomless water? This means you have the skills to control your depth and buoyancy at all times, even when you're distracted by pesky dolphins, mantas and sharks.
Will you make the right decisions in the event of an emergency?
Are you comfortable diving in a current or surge? Current can pick up at some of the dive sites.
If you are afraid of sharks, dolphins, mantas or whales we recommend you stay home, because here you're going to get really, really close to them!
Socorro is about 22 hours away from reality, so if you screw up, the whole boat suffers the consequences. We don't want do discourage you. We just want to make sure that you are comforable enough with your skills to fully enjoy what this amazing destination has to offer.
As with all my workshops we recommend that if you don't consider your buoyancy to be perfect, you should think about leaving your camera behind. Your safety is most important and we need models.

About the Photo Workshops - Because the dive, eat, sleep schedule on live-aboards is already really intense, we'll keep the presentations to a minimum. I will offer one presentation about how to photograph mantas on the way out and will be available to assist through the entire trip. I'll also be doing Photoshop mini-sessions with those who are interested in learning the best way to process blue water images. There is a nice wide screen TV in the lounge of the Solmar V that I can hook my laptop to, so this makes it possible for several people to join in on these sessions.
I have many other presentations available about topics such as photo composition, digital workflow, image size & resolution, and file formats. Let me know what you need and we'll tailor the schedule for you.
Camera Recommendations - Bring a still or video camera with a wide-angle or fisheye lens. The mantas are big and they do get very close IF you don't chase them. At least one external strobe with an extra long arm is recommended. Two would be even better. There are some macro opportunities, but you know that as soon as you put that macro lens on, the big animals will show up. If you need help getting your camera set up for this trip, please contact me ahead of time.
Of course you may just want to come to enjoy the experience also and leave your camera at home. That's OK too!

Price includes:
RT airport transfers
9 nights aboard the Solmar V
All diving
All meals while on board
Photography assistance and instruction
All beverages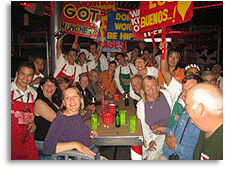 Does not include:
Air fare
Chamber fee - $15 cash
Crew gratuity -
Extra nights in Cabo
Camera rentals
Post trip shenanigans at Cabo Wabo and/or El Squid Roe
Bail bonds

For more information or to sign up contact Bonnie
or call the Solmar V office at (866) 591-4906 or (310) 455-3600 for more info.
Please remember that this area is very remote. Mother Nature has the final say about where we go and what we see. Visibility, water temperatures, currents, surface conditions can change quickly and as the organizers of this trip we have no control over this. These animals are wild and are in their own habitat. Big animal encounters are totally random and are at the choice of the animal.