TRIP REPORT: The Socorro Islands (Revillagigedos Archipelago) Aboard Solmar V
ABOUT THE PHOTOS IN THIS REPORT
I shot most these photos with a Nikon D200 in a Sea & Sea housing with dual Inon strobes. Most the underwater photos were taken with a 10.5 fisheye lens. Some were with a 12-24. Whale tail shot was with a Nikon 110-400 VR zoom lens.
I thought I'd try something different so I converted several of the underwater photos to black & white. This allowed me to adjust some images that might be too blue to color correct and get the depth and detail that is very difficult to capture in such an amazing environment.
ABOUT THE SOLMAR V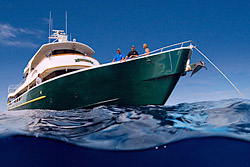 Solmar V is a 112' live-aboard based in Cabo San Lucas, Mexico. My first trip aboard this boat was in January 2004 and I've done five more trips since, and I have another photo workshop trip coming up in April. The boat was previously owned by a Mexican corporation (same one that owns Solmar Hotels, Suites, and the Solmar fishing fleet), but has been bought by Jose Luis & Leslie Lee Sanchez about two years ago. They are very familiar with this vessel since they were the booking agents for her prior to the purchase.
Solmar V is long and narrow, which suits the type of seas typical in the Socorro area. She's a beautiful boat with a dark green hull and yellow and white accents. The main salon area is rich with polished brass, mahogany, granite countertops, and etched glass accents throughout. Certainly one of the prettiest boats I've ever been on. There are booth-style tables in the front and the back of the salon, all large enough to seat 4-5 people and smaller tables in the middle for those guests who choose to dine by them self.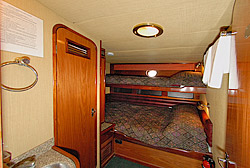 There are 12 private cabins. Six larger double cabins in the middle of the boat, three double cabins toward the bow, two single cabins just behind the bow, and one double cabin right in the bow of the boat. Each cabin has its own head and shower, and each has its own AC control (on or off, but no in between). The cabins are small, but they have a lot of storage areas so once you're moved in they are quite comfortable. Each cabin also has its own TV and DVD player. I noticed some nice improvements to the cabins on this trip. All the carpeting has been replaced, much of the hardware (door handles & latches, light fixtures, towel racks, etc) was new. The mattresses and linens are all new and are very comfortable.
I also noticed that they have resolved a vibration problem that they used to have while the boat was underway. Some people didn't notice it, but it caused the silverware to jiggle across the dinner tables. So no more spoon races for us crazy kids. The boat was so smooth at times I had to look outside to see if we were actually moving.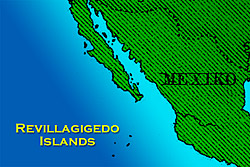 The dive deck is large with about 22 dive stations, each with its own basket for storing fins, masks, etc. In the center of the dive deck is a large two-level camera table. There are charging stations both outside and inside. I signed up for NITROX when I signed in, so my tank was filled after every dive and I analyzed it myself. Diving was easy from both the pangas and the back of the boat. Nobody had to carry their tanks around for the panga dives. The crew did everything. Diving from the back of the boat was also very easy. Solmar V has a large dive platform and two large ladders which made it easy to get in and out even if there was a swell.
The Solmar V does trips to the Sea of Cortez, Guadalupe Island and to the Revillagigedo Islands, which are more commonly called "Socorro" after Socorro Island. Makes a lot of sense to me, since most people cannot pronounce "Revillagigedo" much less remember it. These islands are located 240 miles south of Cabo San Lucas and between 448 and 603 miles west of mainland Mexico. Solmar V has been coming here for 15 years and they have made more than 300 trips to this area. Captain Gerrardo and the crew are extremely competent, professional and are always happy to help out the passengers with whatever they might need.
ARRIVING IN CABO SAN LUCAS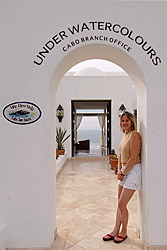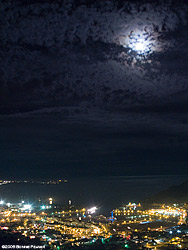 To get to the Solmar V you need to fly into San Jose del Cabo, which is about a 30 minute ride from Cabo San Lucas. There are many direct flights from hub cities in the US. From LAX the trip is just two hours, hardly enough time for a Mimosa & a snack. The airport is constantly growing to accommodate the booming tourist area around it and there always seems to be construction going on. After clearing customs* and immigration we breezed by the timeshare salesmen to catch our awaiting ride with Cape Travel.
Although I could have flown in the same day the boat left, I came in a day early on the invite of some friends who had a beautiful house in Pedregal. So I declared it my official Cabo branch office. We had a wonderful dinner at El Correl, then drove up to the top of Pedregal to take some night pictures of Cabo bay. Very pretty!! The next morning we had a few hours to tour around downtown and do a little shopping for all those prescriptions that cost us ten times more in the US. Good thing we don't need a prescription for Tequila.
BOARDING THE SOLMAR V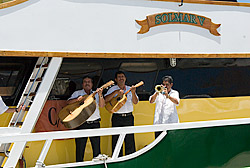 Solmar V is located in the center of the Cabo Marina. I've done that march down I-dock many times before, but never get tired of seeing how the boat glows sitting among all the shiny white charter fishing boats. The mariachi band was playing and we all gathered around the snack table of munchies. The crew had already brought our luggage on board, so all I needed to do was unpack my dive gear, take care of the paperwork, and I'm ready for the infamous Solmar V Margaritas.
The boat left the dock at around 4:00 p.m. cruising past Cabo's famous Lover's Beach and Los Arcos with a brief stop so we could all take pictures of the arch, piles of sealions, pelicans, and long shots of the beautiful homes up in Pedregal. From here on out, the crossing would take about 22 hours.
The boat has a large collection of movies on DVD that we could watch while underway. There's also a computer workstation available for customers to use if they decided not to bring their own. You can set up a SeaWave satellite phone and email account which allows you to send and receive emails several times a day and/or make phone calls. I personally like being away from this but there were many other passengers that used it to keep in touch with the real world.
The crossing was smooth and time seemed to fly by as we got aquatinted with the other passengers, put our cameras together and set up our dive gear. During this time the crew gave us a detailed boat and safety briefing and a thorough dive briefing. When we arrived, the crew immediately went to work to anchor the boat and unload the pangas. We were all ready to jump into the water for our checkout dive.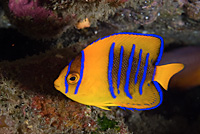 SAN BENEDICTO ISLAND - EL FONDEADERO
El Fondeadero is typically the first place we dive when visiting these islands. Its generally pretty calm and not too deep so its where the crew brings us for our checkout dive. Here we always see the beautiful juvenile Clarion Angelfish. There are three large pinnacles full of lobster, fish, eels and occasionally shark. At 74 degrees, the water felt a little colder than I expected but my new Harvey's 5 ml wetsuit was perfect. Visibility was the best I've ever seen here and I was hoping this was a taste of things to come.
SAN BENEDICTO ISLAND - THE BOILER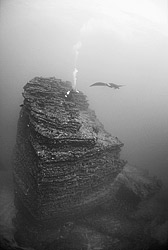 Early the next morning Solmar V moved to the other side of the island to a spot called "The Boiler". A large pinnacle rises to about 20 feet from the surface, so you can't see it from topside. The surf and swell running across the top sometimes making the water look like its boiling. The pinnacle is small enough to swim around during one dive and its very majestic looking from all angles. The bottom is at around 160' so getting your weights right and not being too heavy is very important. This area is a popular cleaning station for the giant Pacific manta. They gather here to be cleaned by the Clarion Angelfish. The visibility here has been great every time I've been here, but today I could all the way to the bottom.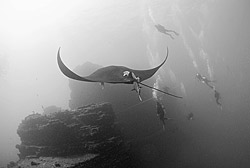 It was just a matter of a few minutes in the water before the mantas started to show up. We had several at once on most dives and they swam from diver to diver to check us all out. I recognized some of the mantas from previous trips. Researchers have commented that the mantas do remember people they like. As they approach, they look you right in the eye, and you DO feel like you are communicating with them. So I did everything I could to "call" them to swim to me. Yea, I know that's all in my head, but I did get close enough to kiss them a couple of times. Through all the dives we could hear the whale songs that rattled our eardrums the closer we got. On a past trip in March, Rey, two other divers, and I were fortunate enough to see a humpback whale underwater here, and shortly after, a Tiger shark. This is also the place that my friends had three humpbacks stay with them for several days. I was really hoping we would see the whale underwater, but enjoyed the music nonetheless.
Between dives most us the guest would gather on the large sundeck. Half the deck is shaded and half is in the sun, so it was a great place for sunbathing or taking a quick nap. On days where manta activity is really high the chef will serve a buffet lunch instead of sit-down so that the divers can eat during the surface interval and get back in the water to spend more time with the mantas.
ROCA PARTIDA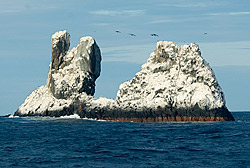 The weather forecast was good so the Captain Gerrardo and crew decided to head out to Roca Partida for the next day of diving. Roca is a guano covered pinnacle about 85 miles from San Benedicto Island. About 100' high and as long as a football field, the pinnacle is in the middle of nowhere and is a magnet to pelagics. This is where I've seen many sharks, mantas, huge schools of fish, and whalesharks on past trips, but this is Mother Nature and I knew there were no guarantees. Another sunny day and calm conditions had me worried that things might be too calm for any good pelagic activity, but as soon as we got into the water we saw mantas, sharks and large schools of skip jack and yellowtail.
We didn't have much current except around the corners, but it was nothing we couldn't handle. This seemed to attract all kinds of life. Just off the rock we saw a school of Silvertip sharks, something I hadn't seen here before. The pinnacle goes straight down to the bottom at about 200+ feet, so all the dives here are like a bottomless wall dive. At 60' there are several caves where we found sleeping whitetip sharks every time.
During a dive we could swim all the way around the rock unless we got distracted by mantas or sharks, which was most the time. We had mantas on every dive and because the visibility was so good we had some amazing photo opps. I have shot thousands of mantas, but never get sick of the last 20 minutes of the dive when the mantas cruise around the divers at the surface. We had beautiful sun rays on every dive and lots of manta that were happy to swim right through them for me. The conditions here were fantastic, so we decided to stay for two days of diving.
SOCORRO ISLAND - CABO PEARCE
When we arrived at Socorro Island early in the morning we headed straight to the Navy Station to clear customs. While we sat around in our pajamas drinking coffee, the military officials came aboard the boat to confirm the passenger log and do a possible boat inspection. The passengers were briefed ahead of time on what to expect and they always make it sound like its going to take longer than it ever does. This time it took about 20 minutes and we were off to our next dive site.
The dive site Cabo Pearce is located on the east side of Socorro Island. We had another sunny morning. Solmar V anchored in a calm cove surrounded by rocky red cliffs. The island was particularly pretty today since the grassy areas were green with vegetation. Normally the island looks dry and brown. The pangas took us off to a long finger of rock that stuck out into the ocean. We were surrounded by dolphins all the way. When we rolled back into the water we were immediately greeted by 20-30 friendly dolphins. I've seen dolphins here every time I've been here, but never this many before. They stayed with us through the entire dive.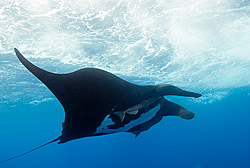 Photographing dolphins is difficult even with a very fast housed SLR camera. They move very fast so most of my shots were captured as I was panning in an attempt to keep up with them. After a few shots I figured out that I could set up the shot by timing their anticipated behavior. Toward the end of the dive we were closer to the surface, so we had more light. By then I had already taken so many pictures of them I decided to play instead. So I started to imitate them with a dolphin fin kick, rolling and spinning like they did. I had a blast with four or five dolphins who seemed like they were having just as much fun. I noticed white, slimey stuff floating around me in the water. I stopped to examine this strange juuz, rubbing it between my fingers. I could see that Rey was laughing at me underwater, trying to give me the "hand signal" for what it was, but I just didn't get it. It wasn't until I got to the surface what it was. I had been spawned!
During our surface interval the pangera took us for a ride to the nearby caves. A humpback whale surfaced about 50' from the Solmar V and hung around for a while. We hoped to see it on the next dive, but the whale had already left. Instead we had several very friendly mantas that kept us entertained through the whole dive.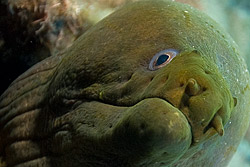 THE AQUARIUM
The afternoon dives were done on the other side of the island at a spot called "The Aquarium". Since this dive has better macro subjects, than big animals I decided to sit this one out and take some pictures of the boat and the divers instead. We could see whales just offshore the entire time we were there and we enjoyed a beautiful sunset.
SAN BENEDICTO ISLAND - THE CANYON
This was our final day of diving. It was windy on the other side of the island and the crew had decided conditions might be rough at "The Boiler" so we dived at "El Canyon". It was here that I had seen many mantas, dolphins, Galapagos sharks, silky sharks, and schools of hammerheads off the point. This was our last day of diving, so I cashed in on all four dives, each time seeing several mantas and lots of fish on the reef. A large green free-swimming eel kept us all amused as he posed for the photographers and videographers, sometimes swimming right between the legs of unsuspecting photographers. We could hear the whale song underwater and Rey took a group of us off to the blue to check it out. Once again, no whales underwater, just a lot of music.
DINING
All divers know that the next best activity to diving is eating. The food onboard seems to get better every time I take another trip. The day starts with hot coffee and tea first thing in the morning. Pastries, cereal and fruit are brought out next, and hot breakfast that starts at 7:00 a.m. Typically the first dive briefing of the day is at 7:45 a.m. There are always plenty of snacks around between dives.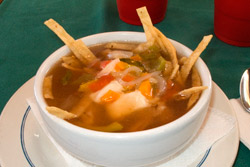 Lunch always started with hot soup and bread, then a full hot meal, complete with dessert. I was pleased to see that the chef was now making tortilla soup, something I asked for on the comment form from a previous trip. We also had a few Mexican meals (which were fantastic). After the afternoon dives we had more snacks. Our group seemed to especially like the Margarita sunsets each evening before dinner.
Dinners were also three courses complete with salad, bread, an entree, dessert and Chilean wine. All the meals were very good. I found the portions to be way too big for me so I asked for half portions, which was just right. Most the desserts were from Costco and although they were good, I would have liked something fresh baked on occasion. I would have liked to have more chocolate onboard too, but that's a totally different addiction that I've learned to deal with. Luis the steward already knew not to give me the bottle of chocolate sauce on ice cream night.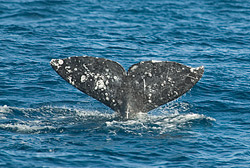 After dinner some of us would stay up and watch movies but most evenings few passengers made it much past 9:00 p.m.
THE CROSSING BACK HOME
Solmar V headed back to Cabo after our last dive at San Benedicto Island. The crossing back was a bit rougher than coming down, but still not too bad. Just outside of Cabo the Captain informed us that we had whales very close to the boat. He circled around for about an hour while three humpbacks surfaced, spyhopped and showed us their tails. I'm sure the Captain and crew were anxious to get home, but they were very kind in giving us all the time we needed to get some great shots.
| | |
| --- | --- |
| | |
| The fantastic crew: Pedro, Roberto, Rey, Aurelio, Geronimo, Captain Gerrardo, Luis, Luis, Eric, Chaka. | The fantastic passengers (in no particular order): Dr. Claire, Dr. Steve, Marj, Kelly, John, Jeff, Tom, Bob, John, Patti, Jay, Dale, David, Andrea, Tippie, Carolynn, Carol, Cindy, Lois, Bonnie. |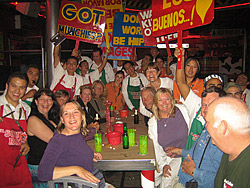 THE GRAND FINALE
Old habits die hard and I just couldn't stay away from El Squid Roe, one of the local hot spots. By the end of this trip I had made lots of new friends and it was pretty easy to talk them into coming along. After waaaay too many Margaritas, dancing on the tables, and pole dancing in the cage, we all went back to the boat (I think) for our last night on board. The next morning we disembarked and headed to the Solmar Hotel or into town to do some last minute shopping.
If you would like to see more photos from this trip you can view our YouTube.com slideshow.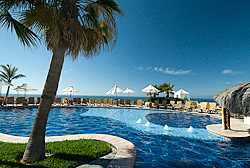 There are also other video clips there that will give you an idea of what the diving is like at Socorro.
Diving with Mantas at Socorro Island from Solmar V
Diving with Hammerheads & Mantas at Socorro Aboard Solmar V
Dreaming of MANTAS & SHARKS at Socorro Islands on Solmar V
If you have any questions about this report or would like more info about the boat or the diving, please feel free to contact me.
---
WE HAVE SOME GREAT TRIPS COMING UP. JOIN US!
If you would like to be notified of upcoming digital photography workshops, seminars and trips, please provide the following info: