30 Trips To Cozumel & Still Lovin' It!
by Bonnie Pelnar
Its tough to write a trip report about a place I've been to so many times. Its much easier to talk about a first time experience because its fresh and exciting. But I do still get excited about my upcoming trips to Cozumel, enjoy every minute I spend there, hate to leave, and miss the place when I'm gone. This was my 30th trip to the island, so I guess its about time I do a trip report. Sorry for the length, but I probably won't do this again for another ten trips.
This week I invited a few of my friends for a Digital Underwater Photography Workshop at Scuba Club Cozumel. This is the sixth photo workshop I've done in Cozumel. I do them now every six months.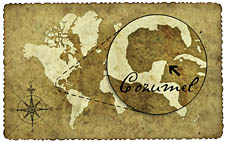 Cozumel is located just off the tip of the Yucatan Peninsula of Mexico. I first came here in 1987 when a guy I was dating told me that if I got certified, he'd take me to Cozumel. I answered "Certified to do what, and where the hell is Cozumel". I completed my PADI OW in California and Cozumel was the first warm water trip I did immediately afterward. The boyfriend is history, but my affection for this island kept me stuck on Cozumel like a gooey old Band-Aide.
I've dived with many dive operators here and stayed at many different hotels and resorts over the years. I've made a lot of life-long friends who are now my Cozumel family. For a long time I avoided the all-inclusive resorts because I didn't think I would like the idea of NOT eating at all my usual favorite restaurants in town. But as the island grew, I found it more and more difficult to find a quick and reasonably priced breakfast or lunch at any of the restaurants in town or at the resorts. By the time I ate all three meals in town I was sinking $50-$60 or more per day into food and drinks, and this wasn't for anything too fancy. I finally tried Scuba Club Cozumel (about 7 or 8 trips ago) and wonder why I didn't go there sooner.
About Scuba Club Cozumel
Scuba Club is located about a mile south of town. Most people will drive right by and never know its there. The resort is only open to guests and not to the general public. For those of us who are repeat customers, we would just as soon keep this place our little secret, but it would be a shame to not share the wonderful Cozumel experience and first class treatment we receive every time we come here. It's heart-warming to hear Sophie say "welcome home" when you walk through the door.
There are only 61 rooms in this Spanish style complex. You don't get the boxy, square rooms found at some hotels. Many of the rooms have unique floor plans and most have an ocean view. The rooms are not extravagant but they have much more personality and charm than some of the comparably priced places on the island. What I noticed from my first stay here was that the rooms are quiet! You seldom hear your neighbors, street noise or bar noise. There are no TVs and no phones in the rooms ...thank goodness! There is a TV and free wireless, which can be accessed in and around the downstairs restaurant.
Scuba Club is the first dedicated dive resort in Cozumel. The resort, restaurants and dive operation are all owned and operated by the same group of people. Scuba Club was designed for divers by divers, so everyone there is there to dive.
Although they do occasionally get diving families here, there are not a lot of small children and everyone you meet has a common love of diving. I didn't find this at the bigger resorts and time-share partner resorts. By the end of my stays at Scuba Club I knew most the other hotel guests on a first-name basis.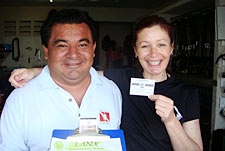 Jeannie, how long did it take you
to earn that card?
Diving Arrangements
The dive shop is on the south end of the resort. Right next door is the classroom where we did the photo workshop presentations and Photoshop sessions, but its usually used for the classroom portion of the scuba classes they offer from Discover Scuba through Divemaster. They do NITROX certification too and some of the divers in the workshop group decided to get certified so they could dive NITROX this week.
You can store your gear in lockers next to the dive shop, just steps away from the private pier where we board the dive boats. Another set of lockers is at the other end of the beach near the pool, which is very convenient for those of us who did a lot of shore dives. They do have locks for sale, but you can also bring your own. There are also large rinse tanks, camera rinse bins, fresh water showers, and a place to hang your wetsuit right next to the lockers.
Our Dive Boat: Reef Star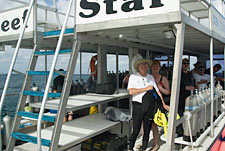 Scuba Club has a fleet of seven dive boats of all sizes and personalities. We were fortunate to get the Reef Star for our group, which is one of the bigger boats and one of my favorites. The boat has two very large multi-level camera tables and a big camera rinse tank. The front on the bottom level is very well protected from the wind and splashing seas in case you need to change batteries or media cards on the boat. This is where the small 6-pack boats just don't cut it. I typically try to avoid opening my camera on the boats in Cozumel, but Reef Star's camera facilities are more like a live-aboard than a typical Cozumel dive boat, so I could switch from wide angle to macro between dives without having to worry about ruining my camera with salty spray or a drippy diver next to me. The top is a huge sun deck where we sunned and played during the surface intervals.
For the dives we divided our photographers up into two or three groups, depending on the number of divers on board that day. They dropped us off on different parts of the reef. Each group got its own Divemaster. This way we could dive in small groups without running into each other and still enjoy the surface intervals to talk photography with our friends.
The Reef Star also has a nice head for those who don't pee in their wetsuit. All the dive boats at SCC have heads, even the smaller boats.
Because this week was a photo workshop we warned the Divemasters that we would be moving very slowly so we could take lots of pictures. Jesus and Nestor were already familiar with the pace since they had both lead our groups in past workshops. Jesus is also a photographer, so he knew how important that was to us. This has really spoiled me. I have a really hard time finding any dive op who can keep the group together and go very slow in a current. The boat crew also does an excellent job of handling the cameras as divers get into and out of the water. My camera rig weighs about 14 lbs topside and is worth more than a small car in Mexico, but I completely trust letting them handle it for me. These guys have it down!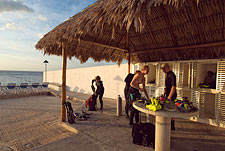 Scuba Club also offers free unlimited shore diving to guests and the dive just in front of the resort is a chest of treasures. There are several convenient places to get into and out of the water all along the front of the resort. Its not unusual to see divers doing dives there all day long. Sometimes even before breakfast. I wasn't quite that enthusiastic.
Dining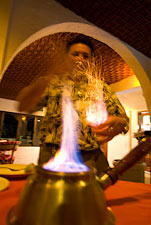 The two restaurants are located in the center of the resort, next to the pool and courtyard. The restaurants are open all day making it easy to enjoy relaxing meals around the dive schedule.
At Scuba Club the meals are planned around the dives so you'll never miss a meal. Coffee starts at sun-up and a large buffet breakfast is ready at 7:00 a.m. We could eat at our convenience, pick up our dive gear from the lockers and wander over to board the boats that leave between 8:00 and 8:30. There is no waiting for a slow waiter to deliver la quanta like I experienced at restaurants in town. Here we could enjoy a relaxing meal with lots of time to spare.
For lunch they offer a daily special which is typically some kind of Mayan or Mexican dish, as well as a salad bar with the best tuna salad I've ever tasted. You can also order off the menu of light Mexican lunches such as tacos and quesadillas as well as American favorites like a cheeseburger, BLT or chicken sandwich.
Dinners are served from 6:00 until 10:00 in both the upstairs and downstairs restaurants and they are complete with soup or salad, breads, your choice of three main entrees, and dessert. For a small additional fee you can get wine or cocktails, flaming coffees, or bananas flambé.
Because Scuba Club does offer some really great specials that include rooms, diving and meals I can still run off to town when I want a change of atmosphere or a pizza at Guido's and it still costs less than if I stay at any other resort or hotel and buy all my meals at the local restaurants.
The Week's Activities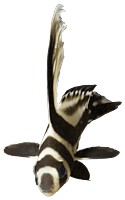 The Underwater Photography Workshop added a few extra events to the normal daily routine at Scuba Club. With a lot of new people joining our group this year we planned a happy hour so we could all get acquainted over margaritas, cervesa, and the amazing guacamole & chips at Scuba Club. During this time we also discuss the marine park rules, photographer etiquette, rules of the photo contest, and distribute the demo strobes and lenses that we had available, compliments of INON America.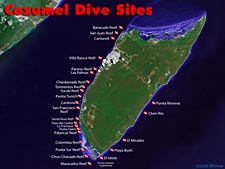 Most the guests arrived on Saturday so those of us who came in early did our first dives of the trip. After breakfast the we boarded the Reef Star from the Scuba Club pier. The crew had all our NITROX tanks already on board. I requested a 32% for the first deeper dive and 36% for the second, so I'd have nice long bottom times. All we had to do was show up with our gear bag and cameras.
The trip to the reefs takes from 30 to 45 minutes depending on how far south we decided to go. I chose one of my favorite photogenic reefs in Cozumel for the first dive. Reef Star is a pretty fast boat and the ride was very smooth and comfortable.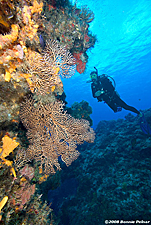 COLOMBIA BRICKS
The area between Colombia and Palancar is called either Colombia Bricks or Palancar Bricks, depending on who you dive with. The "bricks" they are referring to are the large bricks you can find in the sand here. An old time Cozumeleño confirmed for me that the bricks came from a late 19th century freight ship coming north from South America. They were on their way to Vera Cruz for paving roads according to this source. The large anchor here is one of two from the same wreck but was buried for many years until is was uncovered when Hurricane Wilma hit the island several years ago. It's not unusual to see messages written in brick by divers who wish to make their mark for the next group that drifts by.
The reef here is a magnificent maze of overhands and swim-throughs covered with lots of sponges and seafans. Visibility was well over 100' and there wasn't much current. The bright sun overhead made for excellent shooting.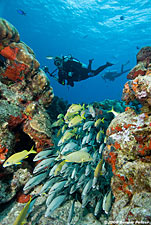 PARADISE REEF
Always a favorite with photographers, Paradise is great for both wide angle and macro shooters. I lean to the wide lenses to shoot the schools of snappers that gather around the outside of the reefs, but this doesn't work so well for the seahorses we always find in the grassy area. There is also a large cement block in the sandy area around the northern end of the reefs that is coated with encrusted red sponge and full of great life. Several of the macro shots here are from a previous trip.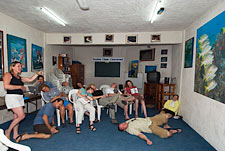 Presenting to my attentive audience
Workshop Presentation – Cozumel Critters: How To Find Them, What They Are, How To Approach and Photograph Them
This presentation gives an overview of the reefs we plan to dive and what we'll probably see there, outlining what the critters are, where to look for them, which lens might work best, how to approach them, and creative suggestions on how to shoot them. I also emphasizes the need for caution while shooting. I personally feels that photographers should set an example of good buoyancy and diving skills, and not be examples of what not to do, so throughout the week this remains a topic I sprinkle into every presentation.

PASO DEL CEDRAL REEF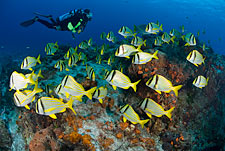 Cedral is such a colorful reef but in past trips I always came a little bit too close to deco when diving it on the second tank of air. Several trips ago I decided to try diving Paso del Cedral as the first dive and found it to be even better when dived earlier, so we now always do at least one trip to this reef on the first dive of the day.
We descended to the sandy flat area to see if we could find the large green eel that hangs out under the sponge covered ridges there. We did find him, but he didn't come out for the cameras. As we moved along to the reef we were met head-on by a nurse shark that swam directly in front of all the cameras. Smile!
This reef never disappoints me when I'm looking for a good colorful shot. Large schools of grunts were waiting for us. The many schools of snappers dispersed and re-aligned for each diver. There are lots of caves to swim through that allow you to criss-cross over and across the reef. A large grouper hung out under a coral ridge. Just before the safety stop we found a large turtle munching on a sponge.
Paso del Cedral reef is one of the most colorful reefs in the world. Of all the photos I've had published in dive magazines, most of the them came from Cedral!
TORMENTOS REEF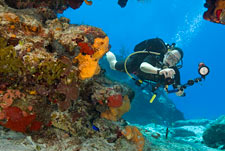 Tormentos squirrely currents can be a challenge when shooting, but today the currents were mild, allowing us to hang around the best areas and capture the colorful scenery. Bright orange and red sponges here make a colorful backdrop for angelfish, eels, or lobster. The sandy bottom in between the coral heads is pristine and currents sometimes pushes the sand into dunes that are so pretty you'll want to take your clothes off and lay naked in them.
Where is Mike when we need him?
Workshop Presentation - Photo Composition and Ideas To Make Your Photos More Interesting
This is a popular presentation that I've given at many of the Underwater Photographic Societies and dive clubs around the US. It discusses theories of composition such as working in thirds, the golden mean & golden spiral, lines and diagonals, negative space and framing, and more. Its a very inspiring presentation for photographers of all skill levels, both underwater and topside because it doesn't focus on how big your camera rig is or how much experience you have. It also shows lots of examples of how one might typically shoot a particular subject, then offers ideas on new angles and techniques you might want to try next time.
MONDAY NIGHT TRIP TO TOWN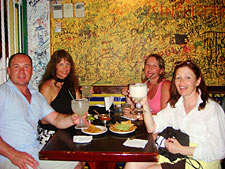 I can't come to Cozumel without going to one of my all-time favorite taco places El Foco, so a couple of us walked to town. Its located just one block back from the main road on the oceanfront about a half block south of Prima. I discovered this place many years ago when my local friends would take me here. I've been coming ever since and cannot pass up the steak and cheese tacos, now called "Bonnie's Special". They have yet to put it on the menu, but you can ask for it by name. Just the thought of those tacos is enough to make me book another ticket to Cozumel. Everyone writes on the walls and ceilings and my own diary there goes back a long, long time. Afterward we headed to the square for a little bit of local color. In the spirit of the moment, we also decided to get henna tattoos in various places, some more interesting than others!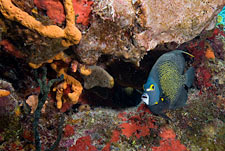 COLOMBIA
The weather has been good, but with reports of wind coming later in the week we decided to head back to Colombia again. This time we dived a little bit further south. We stayed on the deeper portion of the reef for about 35 minutes, then moved across the sand to the shallower reef, ending up at the anchor.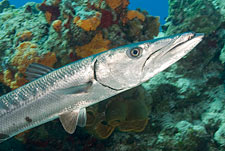 YUCAB REEF
Yucab Reef is similar to Tormentos. Its the next reef south of it. This is another very photogenic reef with low-profile coral heads full of bright colored sponges and seafans, lots of groupers, eels, barracuda, lobster, and a large variety of fish life. The current picked up during the dive, but was easy to avoid getting swept away by hunkering down in any of the valleys between the coral. It was not unusual to come face to face with unexpected marine life here doing the same thing. The barracuda held his ground...its you or me, baby!
Workshop Presentation - Best Photoshop Moves For Your Images
In this Photoshop session participants were asked to bring in any images that they had problems with or were looking to correct. We talked a little bit about file formats and digital workflow but spent most the time showing they typical steps an imaging professional* takes to process an underwater image. There are many ways to color correct images in Photoshop and underwater scenes have special needs. We discussed shooting in RAW and demonstrated why this format is best for underwater shooting. We also talked about ways to shoot different next time so we can avoid the problem in the first place. This was intended to be a one hour session, but spilled over to two hours before I kicked everyone over to the bar for happy hour margaritas.
*In my corporate life many years ago I was the Electronic Prepress Specialist for Kodak Electronic Printing Systems.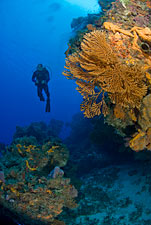 COLOMBIA DEEP
Colombia Deep is one of my favorite dives in Cozumel. The white sandy bottom reminds me of a snow covered ski slope. I've often seen spotted eagle rays or sharks cruising around here. I decided to use my 10.5 fisheye lens this time, since so many of the coral heads and crevices are filled with large seafans and bright sponges. By now I had all the other divers pretty well "trained" to model for me when the camera pointed their way. We had bright sun and amazing vis today so I was not disappointed. Other than people from our own group, we never saw another during the entire dive. I'm getting spoiled.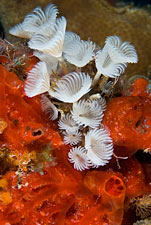 CHANKANAAB REEF
We decided to switch to macro for the second dive so we headed to Chankanaab to capture some of the beautiful feather duster worms commonly found here. The current at Chankanaab typically runs south, which is the opposite of the rest of the dive sites in Cozumel.
For those shooters who had wet lenses, they were also able to enjoy the large schools of snappers that hovered over the reefs as well as the quick moving schools of smaller fish that jetted about. This is one of the only places where I still see a lot of the feather duster worms. This time we found both small white ones and the orange and white stripped colonies. We also found a number of lobsters, small eels, and lots of juvenile fish.
Workshop Presentation - The Art Of Digital Manipulation
This is another presentation that I've done for a lot of the UPS groups and dive clubs. The use of Photoshop on underwater images always stirs up controversy. This presentation shows why there is concern, when conflict rears its ugly head, what the reality is, how it might be addressed. Then participants are tested to see if they can tell which images are real and which ones were manipulated in Photoshop. Its a fun presentation with a humorous twist.

CEDRAL WALL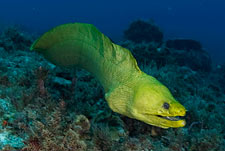 Seems this is a less often visited site, maybe because there's usually a swift current. There are not the large coral formations that you can swim through and around, but there are a lot of big barrel sponges that have grown in a twisted sideways formation due to the typical strong current. You'll see life here that is not as abundant on the other reefs. Its not unusual to see sharks and stingrays here, turtles, eagle rays, and eels. The current was mild today and I could see a large green eels swimming my way, so I lined myself up in its path. I had a 10.5 fisheye lens so I needed to be right on it to get the shot. The eel didn't seem to mind, swimming right up to my dome port. This eel had to be 10' long, but then everything looks bigger underwater. We swam a bit and drifted over the next reef and ended up at Cedar Pass to grab some shots of the colorful reef there. Everything was out in the open!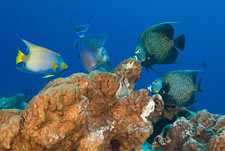 DALILA REEF
Another great divesite if you want to get away from the crowds. Dalila Reef is a great place to do it. I've been fortunate to dive here many times without running into any other divers. We descended to the sandy bottom and crossed over to the reef area. This is a low-profile reef, but its full of seafans, sponges, and sea life. You'll also find a lot of hydroids here, so although the dark, feathery branches are pretty in the pictures, contrasting against the colorful sponges, they are also very painful if you happen to get too close. Lots of schools of snappers, angelfish, puffers, trunkfish and the like. As we drifted to our safety stop we saw at least six large fish munching on a big sponge. Yummy!
Workshop Presentation - Top 10 Photoshop Tricks For Underwater Images
Having processed tens of thousands of underwater images, I've come up with a handful of Photoshop tricks that helps with almost all the issues we face with underwater photography. This presentation is a hands-on example of what you can do in Photoshop if you didn't get things quite right when you shot it underwater.
Paradise Reef is a favorite for night dives since its not too deep (50-60') and is crawling with animals. I must have seen four or five octopus, four free swimming eels, splendid toadfish, many lobster, common toadfish, adult and juvenile spotted drums, tiger snake eels, seahorses, and our favorite...the big-ass crab.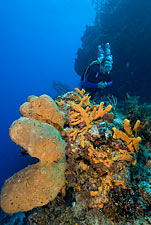 SANTA ROSA WALL
Today it was a bit more windy than on previous days so we headed to Santa Rosa. Before we got into the water I warned the other photographers that there might be a lot of current on the wall at the beginning of the dive and it might be a good idea to just enjoy the scenery for the first part. Once again, Mother Nature proved me wrong and we had almost no current! Another gift was that there were no other dives there while we were underwater. This is unusual since this is a popular dive and its located on the northern end of the reefs, so many dive shops come here. I've often seen turtles here munching on sponges with angelfish close behind to scoop up the crumbs. There are also many large sponges and areas of the reef large enough to swim through.
The vis was incredible and the current was very slow, so us photographers went to work to capture this beautiful reef from every angle we could. This time I saw more schools of small fish hovering around what I call the coral bouquets. Makes for very pretty pictures. Toward the end of the dive we drifted over the wall to the sandy flats to dodge barracuda.
VILLA BLANCA WALL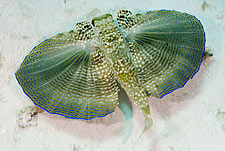 Every time I've done this dive its been in a raging current, but this time it was very slow allowing us to really look close at the small critters here. I got lazy and decided not to change to my macro lens. Of course I was sorry I didn't because the group found several seahorses, a frogfish, lots of juveniles, small crabs and shrimps in the anemones. Drifting up to the safety stop I saw a large tractor tire on the sandy bottom full of juvenile Cottonwick that huddled inside the tire at the smallest sound. Just a bit beyond that we found a pair of flying gunards, one of them the largest I have ever seen anywhere.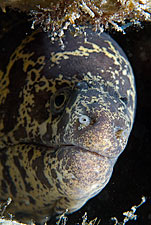 SHORE DIVING AT SCUBA CLUB COZUMEL
There is great shore diving right in front of the resort at Scuba Club, so we decided to check out what we could find here at dusk. Several nights earlier some of the divers encountered a spotted eagle ray that was feeding on the sandy bottom, which stayed there for most the dive in spite of their camera and video lights. I was set up for macro so I peeked around the pier and the rocky shore to find small crabs and squat shrimp in the anemones, eels, octopus, and juvenile everything. The dive shop just added a new fish habitat that will certainly be quickly occupied by the many critters found here. It would be easy to spend a couple hours here, but one must come up for happy hour and dinner eventually.
Friday Night at Pepe's Grill
We decided to make a trip into town for the best Caesar salad and Mayan coffee we could find. I have been to Pepe's Grill many times for their tableside presentation of both. Weather was veering down on us and it started to sprinkle just as we pulled up, but within minutes the rain was coming down in sheets. This was a great place to watch the lightening and rain from the large windows upstairs.
Night life in town isn't what it used to be when Carlos and Charlie's was on the other end of town or when Joe's Lobster House used to be open, so to find an open bar was not as easy as we had hoped. So we headed back to see our friends at El Foco where we know we could get some good margaritas and cold cervesa.
Webcam Monkey Business
When I'm not at Scuba Club, I'm online looking at what's happening there through the webcam. Call it addiction! So we decided to send a couple of messages off to our friends who weren't so fortunate to be there with us. The "monkey thing" is another LONG story so I won't get into that here, but I will say that Monkey Boy Jones has been to every one of the workshops and now plays an important role in the activities. We did get scolded for blocking the webcam view one day for about an hour. Scuba Club got several phone calls and many emails complaining about the monkey, so we quickly removed it. Our apologies to anyone who suffered from the blocked view. Now that I'm back home, I understand completely!
Saturday – Port Closed
For those who came for the workshop the weather held out for us and Saturday was departure day for many in the group. The morning weather reports on TV and the internet told us there was a big storm in the US that dumped 20" of snow and ice overnight in areas of the east and midwest. This helped to make the slight drop in temperature and increased winds in Cozumel a bit more tolerable. But with the ports closed to all boats (including the ferries) so we needed to find another form of entertainment.
Fortunately the sun was out most the day. Several of the group rented a Jeep to tour the island. When the "nortes" blow (November through March) it is usually calm on the south-east side beaches and the small beach bars and restaurants fill up fast with tourists. A visit to the lighthouse is highly recommended, especially on a sunny day when you can see half the island from the top. You can also visit several of the Mayan ruins on the island, but be sure to bring your mosquito repellant.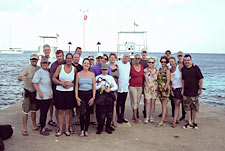 Others from the group went into town to fight the cruise ship crowds and do a little shopping. For those who stay at Scuba Club, we are protected from the tourists and one trip into town during the height of cruise ship traffic reminded us how much we appreciated the privacy and seclusion we had at "home".
Leaving Scuba Club Cozumel is always the hardest part. The staff here becomes family and the other guests at the resort are all so friendly.
Thank you to all who attended the workshop. We had a fantastic week of diving and fun. See you again at Scuba Club in August!
You can view all the photos in this report plus more to music by playing the YouTube video. Approximately 8 minutes.
Thank you to the management and staff at Scuba Club Cozumel Dive Resort for taking such great care of us all once again. Thanks to Inon for providing demo strobes, lenses and accessories for us to try out, to Atomic Aquatics for the snorkel, to Tusa and Sea & Sea for T-shirts and hats. Thank you to South Pacific Island Travel for being so professional and helpful in so many of the travel arrangements for many of the guests in the group.