by Bonnie Pelnar, Dec, 2010
Last time I was Indonesia I was aboard the Kararu Voyager's maiden voyage starting in Flores and ending in Sorong. The entire trip was amazing, but of all the places we visited, Raja Ampat left the most memorable impression on me. I was in the Raja Ampat area for only three days. I vowed that next time my stay would be at least two weeks. When I heard that Alberto and Olga, who were aboard the Kararu boat with me, started a live-aboard business I couldn't wait to get on board. Dive-Damai was every bit as great as I expected it to be and many parts were even better than I could have imagined.
This trip report is written from notes and photos I took during the adventure. Click on any of the photos for a larger view.
Singapore
Air routes to Sorong are far from direct, so we decided to fly through Singapore. This gave us almost a day and a half in this vibrant city, just in case our bags needed to catch up. We arrived in the middle of the night and crashed for a few hours of sleep at our hotel. The best way to avoid jet-lag crash & burn is to keep moving, so we picked up passes to the "Hop-on, Hop-off" bus to tour the city. We started at a coffee shop at the famous Raffles Hotel where I paid $12 for a bottle of water! Yikes!! Our first stop was at the Singapore Flyer, the world's largest Ferris wheel.
The next stop was Chinatown for lunch. We spent a lot of time walking through the markets and restaurants and enjoying the diversity until we came upon a shop that sold shark fins and other animal parts. That wasn't fun.
The entire bus route would take about a 90 minutes if we never got off. We spent a lot of time in Chinatown, so our last stop was in Little India.
We disembarked back at the Raffles Hotel, and headed upstairs to find the Long Bar, where the drink "The Singapore Sling" was made famous. It was not worth the $27 they charged for it, but we tried to get our money's worth by filling up on peanuts. It also gave us a place to stay out of the rain for several torrential downpours. Afterward we dodged rain and lightning to head back to our hotel for dinner and prep for our trip to Manado and Sorong the next day.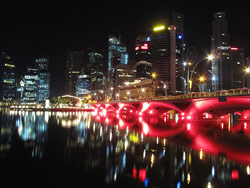 Fighting a 20-hour time change in one day is a losing battle. Andrea and I were both wide awake at 2:00 am. We decided to grab our cameras and embark on a middle-of-the-night photo excursion of Singapore. Finding a Starbucks that was open was also part of the mission. A $7 taxi ride from our hotel got us to Marina Harbor. Much of the city is dark at night, but the harbor lights were full aglow and the massive Marina Sands Hotel and the Singapore Flyer (world's largest Ferris wheel) gave us plenty of photo opportunities. It was a perfect night for this; warm, humid air, cool breeze and crisp, clear skies. After several hours of running the streets, we made it back to our hotel just in time for our wake up call.



Back to the Singapore airport to catch our flights to Manado and on to Sorong. After a smooth check-in and pass through security we met up with the others in our group, boarded the Silk Air Airbus A320 and headed off for the three hour flight to Manado. So far we slipped under the radar and evaded excess baggage fees!
Upon arrival in Manado we got through the Visa line ($25 US dollars) and immigration. Finally things start to get exciting. As I passed my carry-ons through the xray machine and headed to grab our bags, I could see Andrea was giving me the 'out-of-air' signal from the immigration line. So I ran over to see what was up and she said she was being pulled aside because she didn't have enough blank pages in her passport. We had just been discussing this and she had plenty of blank pages, but they were not the right kind of pages to satisfy the requirements of the Indonesian immigration authorities.
The long lines already put us very close to missing our domestic departure to Sorong, so I sent the others ahead to catch the flight and waited to see what was going to happen. She and the authorities were behind closed doors and I finally worked up the courage to knock on and open the large door on the immigration quarantine office where she was being detained. She told me that they were going to make her fly back to Singapore to go to the American Embassy to get more pages in her passport. I knew once I left, there would not be an easy way to get in touch with her to figure out a plan, but told here to call or email the hotel we were headed to, as well as the Dive Damai office in Bali to let us know what happened. The Lion Air flight was about to leave and I hadn't even gotten through customs or checked my bags yet, so I left her to the mercy of the Indonesian officials not knowing what was going to happen next.
After a sprint to the domestic terminal, more x-ray machines, check-in, departure tax ($4 in Indonesian Rupia only) I finally caught up with the others who were waiting in the domestic departure area. We all boarded a bus to take us to the plane and felt pretty sick about having to leave one of the team behind. The Lion Air "Wings" flight was three more hours on a ATR-72, a twin-engine turboprop to arrive in Sorong at around 6 pm. Upon arrival Mike and Chris from Dive Damai were waiting for us to take us to Le Meridian Hotel for the night.
Sorong, West Papua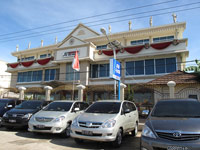 The name "Le Meridian" makes this place sound pretty lush, but it looked more like an insane asylum. The long hallways had high ceilings and shiny waxed floors with a single window at the end. The rooms were pleasant with clean, comfortable beds and a nice bathroom with warm showers. The power was on and off all night, so it was a good thing we didn't have the proper adapters to plug in our chargers. We did have a lovely fluorescent light high on the wall, that went on every time the power went off. There is also a Marriott in town. Oh wait…that's The Mariat Hotel, nothing like the Marriott chain you're familiar with. This is as good as it gets.
Their website advertised that they had wireless, but didn't describe the nearly impossible process of how to access it. We purchased the cell phone SIM card for 25,000 Rp ($2.50 US) and waited for login code that never came. Email wasn't that important at this point anyway. We decided to do dinner at the hotel to keep things simple. The restaurant there was huge and all set up with big round tables. We felt like we were the first to arrive at a cheap wedding reception. The waiter didn't respond to quickly to anything we said in English, but Bintang he did get. When the food did arrive it was good and plentiful.
The next morning Chris from Dive-Damai picked us up at the hotel to take us to the boat where we met up with the five other passengers that flew in that morning. Andrea was also with them, having paid several hundred dollars cash to the immigration guys in Manado. They put the Indonesian visa sticker on top of an already stamped page. Regardless, it was nice to see her again and we were happy that she did not have to fly back to Singapore.
Dive-Damai
Dive-Damai was waiting for us in the Sorong Harbor, aside many other live-aboard vessels in the area. Damai is a phinisi sailboat, modeled after the traditional sailing vessels in Indonesia. The entire boat is made out of local wood. Instead of nails, they use wooden plugs that swell when exposed to the salt water. The boats are built in Tanjung Bira, South Sulawesi and some of the guys that helped to build this boat had been invited on to work as crew. They are very proud of what they created, with good reason.
Damai carries only 9 passengers. The rooms on this boat are larger than any other live-aboard I've been on. There are two very large king size rooms (upper and lower levels) across the stern of the boat. The two double rooms are just as large with two queen-sized beds in each. All the rooms have at least one desk, plenty of storage space, and separate head and shower. One even had a bathtub!
The main lounge area is where we gathered for meals, socializing and watching movies. Here they also have a refrigerator and coffee maker available 24 hours. Fresh ground coffee and espresso was available for us to make any time.
We knew the rooms were big, but I believe I can safely say these are the biggest rooms I've seen on any live-aboard dive boat. Even the trip leader's accommodation was much larger than regular staterooms on other boats.
With only nine passengers there is plenty of space. The crew of 17 on board is all Indonesian with the exception of Alberto who is from Spain.



There are only two to three divers to each dive guide and each group got our own dinghy. The dive deck is located toward the bow. Each station has an enclosed area to keep accessories and right next to the dive station is your own camera rinse tank, large enough for a full housed SLR system plus strobes.
We never had to do much more than put on our wetsuits. The crew did the rest including carrying our gear to and from the dinghies, as well as all the cameras. After each dive we just get off the boat and head for the showers. Our cameras would be waiting for us in the fresh water rinse tanks when we were ready for them. In a room outside of the main salon there is a nice camera room with plenty of both 110 and 240 outlets. The boat was obviously designed with the underwater photographer in mind.
Raja Ampat Diving
Day 1: Check-out dive + Matan Island
| | |
| --- | --- |
|   | Raja Ampat Trip Route |
We did a checkout dive and another dive on a reef around a nearby island. The visibility wasn't great, but we were still a way from the good diving.
Lunch was excellent and dinner was even better. Pasta with a tomato meat sauce for lunch, salad and a nice tuna steak cooked to order with mangos & ice cream for dinner.
Day 2: Batanta Island
Damai moved to Batanta Island where we did a day of muck diving. Mimic octopus, bobbit worms, wonder pus, lots of nudibranchs. Night dive was in a sandy area where we didn't see much. I'll ID these later...
Day 3: Farondi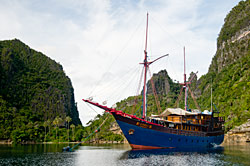 On the third day we woke up in the Farondi area, where I had been before. The area was riddled with rock islands that form a narrow row to the east of Misool. They are covered with lush, green vegetation contrasted by turquoise blue water. The water was as smooth as glass for as far as the eye could see. Between dives we boarded the dinghies to a topside tour of the area. Weaving in and out of the rocky islands and into remote bays, we all enjoyed the contrast of the bright blue water against the dark jungle and rocks.
I knew I needed to set my camera up for wide angle for the underwater shots. I remembered it to be even more beautiful than what we saw topside.
Killer Cave: We did a dive through a cave full of giant sea fans. Conditions were pretty dark, since we were in the shady area of the island and there was a pretty strong current.
Three Sisters: The second dive done in the bay. Alberto described it as a sandy slope under the boat, so I wasn't expecting much. There was no wall, but the area was full of soft coral and sea fans.
Farondi: The third dive was STELLAR! Three small islands right next to each other with steep walls covered with beautiful soft coral. The sun was bright and viz was exceptional. This was the perfect dive. Alberto also spotted a sailfish in the blue.
Breakfast, pizza lunch and dinner were exceptional. Tonight we had duck breast, long beans and veggies topped with a spicy peanut sauce.
Day 4: Daram
The diving in this area wall a wide-angle shooter's dream come true, so I spent much more time taking pictures than I did writing about them.
Day 5: Balbulo
Day 5: The Windows at Boo
This is the dive site featured on the cover of Burt & Maureen's Raja Ampat book. Four large holes under the island just beneath the surface gave it this name. The rest of the area was full of lush soft coral, healthy hard coral and schools of fish. All the underwater images were shot with a 10-17 fisheye lens.
Fresh salad, hamburgers and French fries for lunch. Bacon potato soup, lasagne and ice cream brownie for dessert!
Day 6: Fiabacet
This was our last day in this area so we did dives at Nudibranch Rock, Whale Rock and Tang Rock. All the underwater images were shot with a 10-17 fisheye lens.
Day 6: Visit to Misool Eco Resort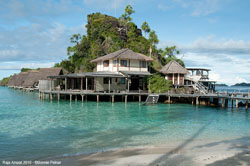 After our dives we visited Misool Eco Resort. I have seen a lot of marketing done about this place and was curious to see what it was like. The location is in the heart of some of my favorite wide angle diving in the area and there was muck diving right around the resort.
The layout of the place is around a shallow lagoon. When the tide was in it was very pretty, but there was a bit of trash in the water. I've been told it's not as pretty when the lagoon empties out on low tide.

All bungalows have over-water patios with a flat hammock and a nice place to sit. The interiors were simple, beds have mosquito nets. The outdoor showers were really cool. The dining area is under a palapa in the middle of the resort. Bring DEET. This was the only place during my whole trip where I got mosquito bites.
Several friends from Wetpixel were here for an extended stay just the week before and Eric might be better qualified to comment on a long stay, but I think I would start to get island fever if I had to stay longer than a couple of days. This place is very secluded. I personally might choose to stay here as an add-on to a live-aboard trip, but the 4-hour boat ride each way may be a deterrent to a short trip.
Day 7: Nampele Mangroves
We motored overnight to wake up in the mangroves. Mangrove diving was made famous by the many photographers who capture the images of soft coral growing on the mangrove roots, reflecting from the water's surface in the dark areas and showing the branches above the water in the light areas. So why by original…let's try it! The first dive was early in the morning, so the light was a bit low. Nonetheless, it was pretty cool. Some divers stayed several hours. The second dive was a little further up river. They dropped up in to where someone had spotted soft coral growth, but the tide was lower and the viz was dropping, so wide angle sucked. The battery on my macro setup was going dead, so I decided to surface. The dinghy driver asked me if I wanted to try another spot, so I went up river and got dropped off in crystal clear water where the healthy hard and soft coral reef teaming with life reflected from the water's surface. The dark mangrove roots were covered with critters and coral. The blue sky and vibrant green mangroves shined through. I could have stayed there all day.
Day 7: Masmas Uli Reef
For the third dive we did an exploratory trip to an area that Alberto had seen on the charts, but never dived. When we arrived there were several small fishing boats, which we saw to be a good sign of life. The currents were strong, but it wasn't too difficult to tuck behind the huge coral bommies to take a rest. Schools of fish passed us in the drift. Toward the lee side of the mound we found massive coral heads as big as houses. Some were leaning significantly, probably from growing in the strong currents, and the undersides were dripping with soft coral. A large green moray eel was swimming freely across the reef, munching on anything he could catch.
The night dive was near a small island on the way back and was quite uneventful. That didn't stop Dee and me from spending 75 minutes there, until we got hungry and decided to come up for dinner.
Day 8: Exploratory Dives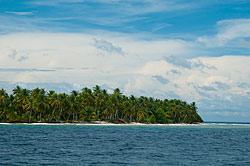 Today is slated for exploratory diving. Alberto and the captain find areas on the charts that could have potential, based on depth and location. Then they send the DMs in first to scout out the area and give us a thumbs up or down. The opportunity to do this kind of diving is very exciting for me. I also understand the risk that we may get wet only to put up a big fight with the current and never find a good area to dive. Our 7:00 am dive was called after the crew scouted the area, because the sea mound on the chart turned out to be nothing more than sand. We motored another hour toward a small, palm tree covered island. The Divemasters went in to check out the site, which was a sandy slope full of hard and some soft corals. Lots of fish, but the top looked like it had suffered damage, possibly from dynamite fishing. Even though we saw two black tip sharks, this dive wasn't quite as dynamic as the others we had done so far, but was still nice.
The next exploratory dive was much more exciting, a combination of very large, healthy hard coral and some soft coral. All of it was loaded with fish.
After motoring another hour plus, we found another area lush with hard and soft coral. Since it was late in the day I set up my camera for shooting macro.
My First Blue Ring Octopus (almost my last)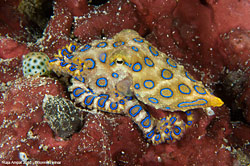 When the DM finds something really good it's pretty obvious. I had not heard tank banging like this for the entire trip, so I suspected this was going to be good. Fortunately I was shooting a nudi and was right there and set up for what Ketut had found. One of the most venomous creatures in the ocean is only a few inches in size. The bite of a blue ring octopus could kill a human being in minutes. This was my first! With caution, I shot off one picture. Unfortunately this spooked the animal and the little guy darted away as fast as he could. Then suddenly it made a U-turn and darted directly for my chest. It disappeared from my line of vision under my chin. I didn't know where it landed. Both Inyo and Ketut were right there and nobody knew for sure where the octopus had gone, but Ketut thought it had crawled into my BC. It could have gotten caught up in my ScubaDoRag, a bit too close to my jugular. At least if I did get bit I would go very quickly! I paused to wonder if I would feel the bite and how quickly it would be before I was unconscious. I also wondered if there was any unfinished business in my life and was concerned that this would ruin everyone else's trip. I was at peace and accepted that if this was how I was to go, it was OK with me. I was scuba diving in Raja Ampat. It just doesn't get any better than this.
I opened up my BC vest so the DMs could investigate and the blue ring drifted back down to the reef. Whew!! That was the closest I've seen death in quite some time. Celebrating life, we all continued on to take lots of pictures of the little guy and enjoyed exchanging speculations about the story he's telling his friends.
Day 9: Kri
Our first dive was at the island of Kri. The dive briefing warned us of potential strong currents, but we got very lucky and had just a mild flow. The reef was loaded with more fish than we've seen at any of the other sites. Schools of snappers, batfish, black tip shark, barracuda, and more.
Kri Corner
Sardine Reef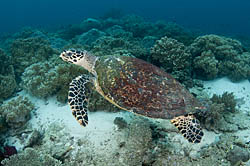 Day 9: Waigeo & Gam
Just south of the island of Waigeo is a small rocky island that looks like a little mushroom. The dive site there is called Mike's Point. Because of the changing tides we were expecting quite a bit of current so the dinghies dropped us off on the lee side of the island and we descended to about 40'. Here we found giant seafans and lots of turtles. More turtles than I've seen anywhere else. There was also a ridge full of spotted sweetlips, but with my bulky camera I could not pull myself over the current to get to them. At the end of the dive we were greeted by a school of spadefish.
The next dive was at Batu Lima. Here we found wobbiegongs, lots of light orange sea fans full of fish.
Day 10: Manta Sandy, Manta Point, Airborei
Between Mansuar Island and Airborei is an area where mantas commonly congregate. Having been to Socorro so many times I was a bit jaded and really didn't think we would see too many or get very close. I was wrong. On the first dive we had three different mantas pass by, but it wasn't until the second dive where they started to play with us. Gordon and I were having so much fun shooting another wobbiegong that we almost missed them. Chris came back to get us through the current so we could get in on the action. What a great Divemaster!
Day 10: Airborei Jetty
Diving under a jetty offers some of the most amazing photo opp you'll find anywhere. This place was golden and was one of my favorite dives of the trip. Late afternoon sun gave us some amazing light rays and the school of spadefish posed around the soft coral covered structure. Amazing! Once the sun went down we spent some time looking for the mandarin fish right next door.
Day 11: Yanggefo
Day 11: The Passage
Between the islands of Gaw and Waiego is a narrow passage way. The tide runs in and out at a very swift pace. The dive plan was to first check out a cave in the area, then head down stream in the current. Fortunately we hit it during slack tide and had the chance to pick around the shoreline where we found all kinds of caves and ridges full of sponges and soft coral.
Day 12: The Pearl Farm
I was excited to have the opportunity to visit a pear farm in Aljui. Sea water pearls are quite pricy and here we had the chance to see first had why. We learned that all cultured pearls start by putting a catalyst into an oyster. Here they use nucleus irritant taken from barnacles in the Mississippi. This gives the pearl a hard, calcium inside. Some pearls take four years to grow. The oysters must be cleaned often for the pearls to come out clean. When they are ready for harvest the pearl is removed with surgical precision. Here they grow only white and silver pearls, the most expensive.
After a tour of the factory we visited the gift shop upstairs where we could purchase pearls and finished jewelry. We were told the prices were wholesale, but later found out that we had been lied to. What they were selling there was even more expensive than the exact same piece from the Atlantis Pearl stores in Kuta and Ubud after the easily negotiated discounts. So those of us that did buy here were intentionally ripped off by the pearl farm manager, who Alberto had also graciously invited to dinner on the boat. Lesson learned.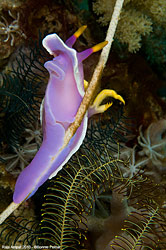 Aljui
We did several dives in the area around the pearl farm. We had to be careful that we didn't get close to where the oysters were. Apparently they are protected by armed guards with shoot-to-kill orders. In the past poachers made off with an entire oyster harvest. Now they don't mess around. It didn't look like we would see many wide angle opportunities, so I decided to don my macro lens and port to shoot little stuff.
We did three dives here, one at Arrow Wall, one at a site named Aljui Pohon Mati, and one starting at the pearl farm jetty. The currents were ripping under the jetty to where we could barely hang on. Here we found a free-swimming wobbiegong shark, lots of fish, stonefish and an epaulette shark.
Day 13: Penenmu
In the Penenmu area we dived at Melissa's Garden, East Fam Wall and Mansuar. Like on most dive trips passengers might be tempted to start packing up early, especially after such a long and amazing trip. Several of the passengers had to leave a little earlier than the rest to catch flights, but I jumped at the chance to have the DM Chris all to myself when we visited West Side Reef near Mansuar Island. I learned earlier in the week that when Chris points at something to signal me to go there, I GO THERE! This was one of those times. I could see a blur of movement in the deeper area so I swam toward it. It was a big mound of fish! This was one of the best dives of the trip. Swirling fish everywhere. The last dive of the day was at Middle Reef at Mansuar Island. It was a deeper wall. As the sun started to set, we could see vibrant colors reflecting off the rock islands above us. Beautiful!
Day 14: Matan
For the last morning of diving we went back to Matan Island, about an hour out of Sorong. Previously we did a muck dive here finding lots of nudibranchs, but this morning we dived the other side which was a nice sloping reef covered with hard and soft coral and large sea fans. Luckily I decided to gear up with a 60 macro lens because Anton found a nice mantis shrimp for me to have all to myself.
The last dive of the trip was done a little further down the reef. I took it all in, captured a few last images and mentally said goodbye to this gorgeous underwater scenery. When we surfaced, I was amazed to see a bright, palm fringed, sandy beach just a few yards away. We had evaded our dinghy driver who was just around the corner. I could not resist piling up my dive gear on the beach to walk around, so Anton and I climbed over a small hill to find what looked like a small fishing shanty on stilts. The contrast of the turquoise blue water, the dark rocks and deep green foliage made for an amazing picture, but taking my camera out of the housing would have been a bit of a hassle, so this one was for our eyes only. We walked back to the beach to find Joko had already picked up our dive gear and put it in the dinghy. What a great way to wrap up an amazing trip.

Dive Damai Crew
At the end of the trip we had a chance to say goodbye to the crew. They all did such an outstanding job. We handed out the tip envelopes and commented on the trip. Dee left a big bag of goodies for them and their families, which they shared among themselves. Joko especially liked the ladies bathing suit.
Packing up for the trip out was pretty simple, since I used some of the dive gear Dive Damai offers to customers at no charge. I was reluctant to do this, since I love my dive gear more than I love my luggage, but decided to bring my mask, regs, computer and Polartek and use their BCD and fins. So I did not have to think about cleaning, drying and packing up salty dive gear. It was nice to get it all in one big bag and a carry on.
Day 15: Sorong to Bali
Our flights out were on Express Air at noon, but late in the evening before we received message from the Damai office that Express Air changed the flight to 8 am. After hanging around in the hot, humid, smoky, crowded airport in Sorong for two hours, we finally did depart at 9:30. Because Dive Damai did a group check in for us, we did not have to pay any excess baggage fees. The plane was a very old 737-200 (out of production since the '70s) that was packed full and the overhead bins were small and packed, we barely squeaked in our excessively heavy camera backpacks for the two plus hour flight. The highlight of this flight was the in in-flight meal, which was a cup of chopped up Kentucky Fried Chicken over rice, topped with some kind of hot sauce. Simply nauseating.