Tonga Humpback Whale Expedition Aboard Nai'a
Story and photos by Bonnie Pelnar of Under Watercolours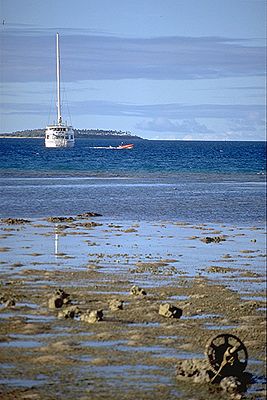 The pilot's voice woke me from a light nap with an announcement instructing us to prepare for landing at Nadi International Airport in Fiji. Now just a short flight away and several hundred Fijian dollars more in overweight baggage, my long-anticipated trip to scuba dive with humpback whales in Tonga was becoming reality. My friends keep telling me I have the coolest job in the world and at this point I had to agree. I was about to make a boatload of new friends during a 14 day Tonga/Fiji expedition aboard Fiji's finest live-aboard, Nai'a.
The Royal Tongan flight flew directly over Nai'a's anchorage near Tongatapu. Her massive white mast could been seen from miles away. Hundreds of pounds of scuba gear, cameras and video equipment were packed into the airport transfer van as I introduced myself to the other whale enthusiasts. A short drive from the airport, past the King's house brought us into the town and to the marina where Nai'a was waiting. She glowed in the horizon adorned by the brightly painted fishing boats around her. The local people were friendly and photogenic; the young women exotic and thin, the men very big and some very handsome.
Nai'a's crew had already loaded our bags by the time Rob Barrel greeted us at the waters edge. "BULA! Welcome to Nai'a!" I was about to take a trip that would redefine my priorities and instill in me a vision that will stay with me forever.
This was Nai'a's third year in Tonga. This year she had acquired a special permit from the Tongan government to run research/diving charters within the Kingdom. NAI'A completed several extremely successful research cruises among the humpback whales of Tonga in 1996 and 1997. Carrying friends, family, and scientists from the South Pacific Humpback Whale Project, she surveyed the waters of the Ha'apai Group in central Tonga, an area not recently surveyed for humpback whales. They not only found many whales, but found them quite easy to approach. NAI'A is an ideal platform from which to observe humpbacks closely. They are exceptionally careful in maneuvering the ship around the whales, leading the whales to approach us closely, and allowing us repeated opportunities to swim with these magnificent creatures. As we sailed off into the Tongan sunset, I realized I was indeed very fortunate to be here.
In the first day of motoring around the islands we found several groups of whales, most of them keeping their distance from the boat. They approached with a curiosity, entertained us with breaches, rolls, tail slaps and flukes but continued on their way. I now appreciate a good breech photo, as mine were all just big splashes.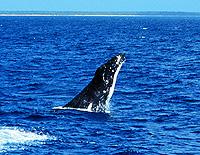 If a whale stuck around the boat for a while, we would don our wetsuits, mask, fins and snorkels and quietly enter the water. Whale experts believed that is not possible to dive with whales in SCUBA gear because the bubbles are likely to be interpreted by the whales as a form of aggression. Nai'a has a lot of experience in these waters and we tried our best to do as we were told and stay calm when we did see a whale. After the first day we weren't sure whether we were ever going to have the opportunity to snorkel with them as they never stayed around long enough for us to get into the water. Of course it was only the first day.
We decided to attempt an approach from the skiff which proved to be successful. We were joined for several short minutes by a mother and calf while we snorkeled in a controlled panic to shoot as many photos as possible in our short time there, despite the dark waters below.
That afternoon we were not as fortunate. The whales were just not interested in having us around. Having all but given up on the pair we were trying to attract, we decided to do a late day dive on an uncharted reef just off a small uninhabited island.
As we motored to the dive site in the skiff and prepared to enter the water we were surprised by a pectoral fin that broke the surface just a few feet from the skiff. This encounter was a special treat and although we were all extremely excited by this behavior, we unanimously agreed that we would not abort the dive to try to snorkel with the whale, as it would just swim off once we entered the water.
The reef was a healthy hard coral slope with some fish, crinoids and an occasional carpet anemone. It looked as though I wasn't going to find much else to shoot, so I concentrated my efforts on building a composition of a coral head covered with crinoids. By now I'd become accustomed to the eerie whining and thumping sounds of the whales in the distance. Although I was a bit spooked by the whale songs, I didn't pay much attention and simply enjoyed the music while I worked.
As I turned to move to the next coral mound the late day sun was suddenly shadowed so I turned to look up and try to determine the suns position. To my amazement, in what felt like only an arm's reach away was a humpback swimming in circles above me. Then I saw another, and another. Their silhouettes crossed paths again and again.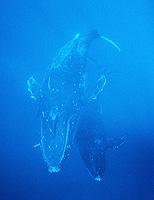 I drifted in disbelief and astonishment as these marvelous giants gazed down at me. They turned to move up the reef. With Nikonos in hand I followed to snap as many shots as I could while still swimming faster than I usually drive on the freeways in LA. By now several other divers joined me. We all were equally enamored by the encounter and joined in each other's energy.
The whales were unphased by our bubbles and our presence. They rose to the surface and back down diving toward us with the choreography only mother nature could compose. They were curious about this unfamiliar species they had encountered. They drifted away into the blue but returned shortly after only to entertain and astound us more. They moved slowly in the water never blowing a single bubble. They navigated around us always knowing exactly were their tiny new friends were positioned. They performed their acrobatics for us with the graceful movements of a fine ballet. Now we could see from below the surface those actions that we had only seen from topside.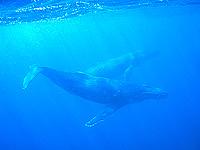 I communicated with them in a way I didn't before know possible. They peered through my soul with their dark, glassy eyes and I told them just how much I respected them. Fear never entered the picture. All I could feel was love and admiration. If I died tomorrow, that would be all right. What more could there be?
With the days light dwindling, our tanks dry and our bodies exhausted we ended our dive at the surface with screams of exhilaration and tears of joy, sorrow, love and gratitude.
What we believed to be impossible was now a well recorded memory that we would re-live again and again that evening over dinner and well into the rest of the week. I will carry this experience with me for the rest of my life and send my regards to them every time I dive into the ocean. I know they are there…waiting until we meet again.

As I hang in infinite space.......
She circles
Time stops for what seems to be an eternity
She brings another
Life changes forever
They stare through me without seeing
I have never known such beauty--such peace
They move gently around me
My heart races-not with fear but with love
They see me with blind eyes
In awe I reach out longing for contact
They read my thoughts, they too long for contact
I hear a song of infinite beauty
They comfort my soul
I am in their realm, their world and I must leave
They weep at my departure
OUR SMILES HAVE TOUCHED EACH OTHER'S LIVES
NEITHER OF US WILL EVER BE THE SAME
by This email address is being protected from spambots. You need JavaScript enabled to view it.


| | | |
| --- | --- | --- |
| | | |
| The fishermen sell the daily catch on the sidewalks of the main street near the marina. | | I would have rather seen these octopus and eels underwater. |
| | | |
| The Tongan children were friendly and loved to be photographed. | | Clam shells for sale |
| | | |
| A willing model | | A Tongan family stops to pose for a snapshot. |
| | | |
| Fishermen and clammers work while the tide is low. | | Peanuts, fruit and vegetables are for sale at the market near the marina. |
| | | |
| | | The marina is full of brightly colored fishing boats. |