California licensed general contractor specializing in kitchen and bath remodels, room additions, interior and exterior painting, door and window installation, decks and patio covers, and more. Site is a Joomla site that allows the client to edit himself.
---

Vinyl dog doors for vinyl patio doors at the best prices online.
---

911 Memorial Tour provides guided educational Tours of Ground Zero and Lower Manhattan conducted by native New Yorkers and licensed tour guides. This is a small Joomla site in multiple languages using Google Translate.
---

Channel your inner Betty or Don Draper — if only for a day — with the Mad Men Walking Tour. This is a small Joomla site that the customer can edit using the Joomla content management system.
---

Dutton Accountancy is an accounting firm located in South Orange County in the city of San Clemente, who specialize in individual tax returns, small business returns, tax planning, tax audits, retirement planning, as well as estate services and trusts.

This site uses a Joomla template that allows the owner to enter a back-door to the site to edit her own pages. We took advantage of inexpensive royaltry free photogreaphy to include a photo on each page.
---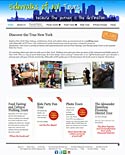 Walking tours of New York city. This is the third website we've designed for this client's various businesses.This time they needed something they could update from their own computer, so we customized a Joomla template and found lots of royalty free stock photography to design around. Lots of tours have been added since the launch of the site and our client continues to add new features to the site.
---

Itram Inc. is a fully licensed, bonded and insured cabinet and millwork manufacturing company doing commercial and residential custom cabinetry and wordworking in Orange County, California since 1985.
---

Filarsky & Watt LLP provides specialized legal and consultative services in the area of special education, student services and labor and employment. Coming soon!
---

Vocational expert services, career management in Huntington Beach, California. Michael is also a scuba diver and a talented photographer.
---

I know this doesn't make up for all the bad things I do when I'm away on dive trips, but this site was a donation to the beautiful church in Irvine, California. Photography and design needed to be simple and clean and allow the church staff to update pages themselves so the site includes an online editor, online calendar, custom maps and even a Quicktime VR movie.
---

Light of Christ Lutheran Preschool is accredited by National Lutheran School Accreditation (NLSA) and is a School Ministry Partner in the Pacific Southwest District-LCMS and affiliated with the Lutheran Education Association.
---
1963 Corvette For Sale - SOLD!
---